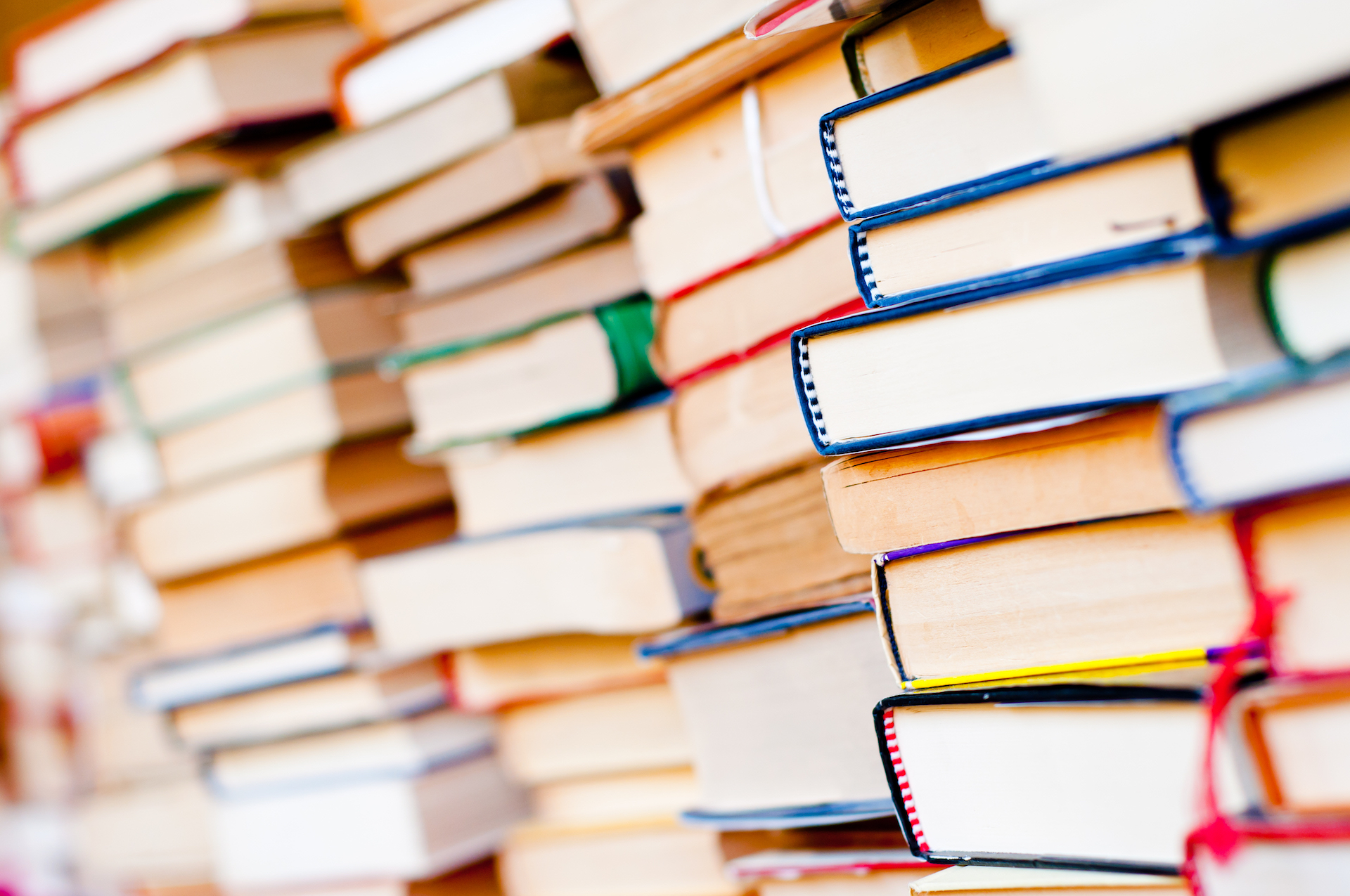 A Novel Idea: Using Books as Assessment Tools
January 4, 2021
We all know the benefits of using books in therapy. It is a great way to model adult form and teach vocabulary all within a natural context.
However, there seems to be little talk about using books as an evaluation tool. While it is critical to first obtain formal, norm/criterion-referenced measures of a child's ability, I often need more information about a child's communication skills in an authentic context that matches how they use their language in the classroom.
In addition to using SLP Toolkit's Present Level Assessments to gain insight into some basic concepts, I love grabbing a book to see what else I can learn about the student. The same benefits of using books for treatment apply to assessment. They can be a great supplement to a more formal question/response format to give further insight into the child's ability, attention level, interests, and more. The child might be less aware that they're being tested, which might allow them to open up a bit more.
For each book I use, I have a short checklist of each skill the book has the potential to reveal. This allows me to breeze through the book while casually flagging concepts for later practice. I have a few books in my arsenal that give good intel and help assessments feel more natural.
If I'm working with a preschooler or kindergartener, I will typically grab Little Blue Truck by Alice Shertle. This book is available in a board book and is filled with simple language and rhymes. When a friendly pickup truck meets a less-than-friendly dump truck, tensions rise. It has a straightforward story arc and lots of familiar farm characters.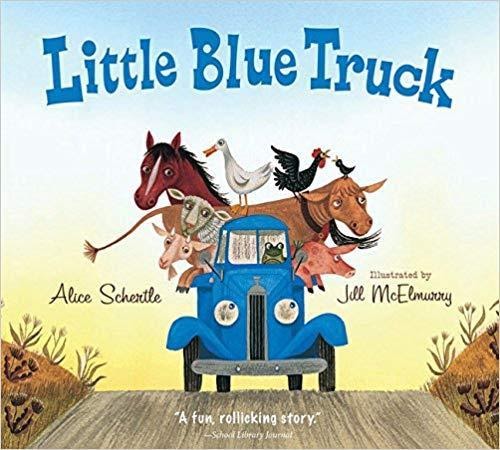 To give you a brief sample of my routine, on the second page, there are eight toads on the left side and three toads on the right side. This is a perfect opportunity to exclaim, "Let's count the toads!" or ask "Which page has more toads?" Quantitative concepts, check!
There are toads on the grass, on the road, and on the truck. At one point, the duck is on top of the horse. Do you want to probe for spatial concepts? Prepositions? Absurdities? You decide!
We've got colors, plenty of things to label, categories (vehicles, farm animals weather words), cause/effect concepts (dirt + rain = mud), character traits (friendly, rude), and a whole bunch of onomatopoeias, which are just… well, fun.
Books are not just for evaluation language, but also can be used to test articulation skills. While it might not test every sound in every position, Little Blue Truck has clusters and back sounds for days (e.g. blue, pig, truck, stuck, and duck to name a few).
If the child is older (grades 2-4), Jerry Pallotta's Who Would Win? series is great. In about 30 pages, the author sets up a hypothetical battle between two seemingly equal opponents (grizzly bear vs. polar bear, killer whale vs. great white shark, etc.). Though the battle is fiction, the animal facts are real. Each page gives plenty of opportunities to answer loads of wh-questions, to compare and contrast the animals, and to identify main ideas and details. The best part is having the student make a prediction about who will win and (bonus points!) support their choice with newly-acquired logic.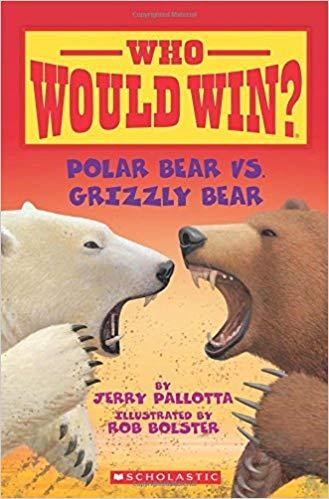 I especially like bringing in books with older kids early on because you can get a sense of their breakdowns in reading (or listening) and the role that language plays.
My evaluation does not end there. In the process of reading these books, I might take note of some other things:
Can the child attend to a whole story/text? Can they turn the pages, or request a page turn? Can they visually track?

What is the quality of their spontaneous questions/comments?

What is the extent of the child's background knowledge? (I live in New York City, where many preschoolers can rattle off their entire subway commute, but don't know their cows from their horses.) What are their interests?

Does the child have a personal story related (or, let's face it, not even a little bit related) to this book? Are they able to stay on topic? What associations are they making?
This method might not have test-retest reliability, so I'd encourage (nay, challenge!) you to find another book that is able to reveal a similar skillset and read it a few months later. What has changed?
This also gives you the option of bringing the "evaluation" book right into treatment and getting to work on those deficits stat. The initial evaluation is a great way to gauge the child's interest in reading in the future. You'll know you're onto something when the kid looks at you like: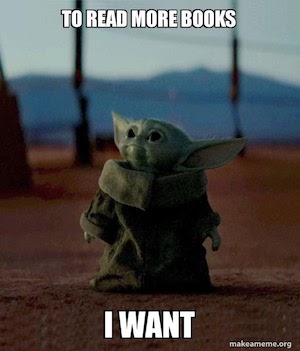 You can worry about syntax later :)
About the Author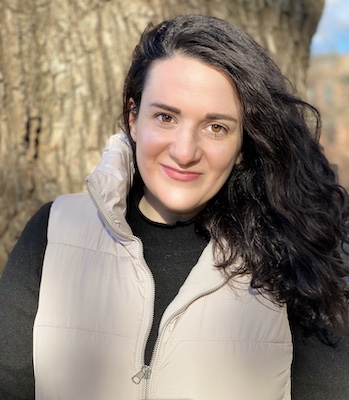 Elizabeth Knapp is a pediatric speech-language pathologist.  She went to The College of Saint Rose — first receiving a B.S. in Journalism and later earning an M.S.Ed. in Communication Sciences and Disorders. Elizabeth has written for Bookselling This Week, Women's eNews, and Kirkus Reviews. Elizabeth's speech-language interests are: language/literacy, cognition, and pragmatic language. While in school, Elizabeth can be seen reading children's books and poetry, and/or administering SLP Toolkit's Present Level Assessments. Outside of work, Elizabeth likes doing yoga, reading good books, and watching bad TV. She lives in Brooklyn.