The Heartbeat of Speech-Language Pathology
April 14, 2020
We are excited to have guest author Phuong Lien Palafox on our blog. Phuong is an SLP powerhouse and a strong advocate in our field on topics such as linguistic diversity, poverty, literacy-based interventions, school based issues, and SLP mental health. Today she talks with us about the impact of COVID-19 on our emotional well being and productivity as SLPs.
The Heartbeat of Speech Language Pathology, by Phuong Lien Palafox, CCC-SLP
The Unveiling
I've heard a lot this past week. Honestly, I'm struggling. I'm feeling overwhelmed, anxious and guilty. I could be moderately effective in doing one of these things from home, either mothering or working, and it's horrible to do both. These are the sentiments of my SLP peers, and I'll add to the dialogue. I am angry. I'm angry at myself for not getting my SLP work completed. I'm angry my three kids (Evidence A) are not getting the help they need to navigate their online learning. I'm angry there are not equitable resources for our families as we move to telepractice. I'm grieving, and I am so sad. I grieve the ability to hear the chortles of my client from the same physical space. I grieve the opportunity to see my bá, a former South Vietnamese naval captain—he lives in an unassisted living facility four hours away. I grieve the quiet moments in the minivan between end-of-day and the hustle of afterschool pick-up. I need to unveil our SLP and human truths for us to feel all the feels. They are all valid, and we need to name them to move forward.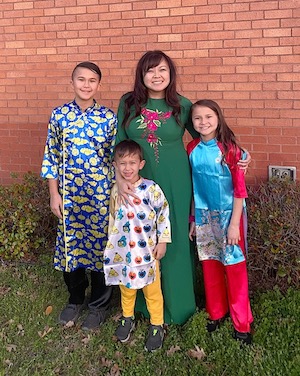 Evidence A.
The Truth
Here's the thing. For many of us, especially my school-based SLPs, our workload prior to COVID-19, had already exceeded our bandwidth. As I sit here in April of 2020, deep in the aches and (clinical) anxiety of my first worldwide pandemic, I can say with absolute certainty that 1) the math does not add up for us to maintain our schedule of services, 2) the humans and families we serve hold the same woes of our daily physical distancing and 3) our physical and mental health are worthy of acknowledgement and attention. I will say this over and over, SLPs. Your SLP worth is not based on your productivity. It is based on your humanity.
The Evidence-Based Practice
Now, let me back up a bit. In Chapter Two of The Heartbeat of Speech-Language Pathology, I write about the definition of evidence-based practice (EBP) per ASHA. Y'all, it's made up of three parts: external scientific research, your professional expertise and opinion and 3) the student/client/patient and family perspective. In this historical moment in our lives, the humans we support and serve are surely wading through big emotions, pivotal life changes and uncertainty for every single daily and lifespan consideration. So, I am giving us all permission to prioritize the third, and equally important, tenet of EBP. There is only one sole way to survive, and this is through the power of connection–connection with the people we serve, connection with our village (our families and friends) and connection with ourselves.
The Heartwork
As I sit here and write all of this at 1:17am on a Monday morning, there is a nausea brewing in my gut for the upcoming work week. In the last three weeks, I have had parents decline teletherapy, technological mishaps, missed Zoom sessions for my own kids, missed schoolwork assignments, a presentation this upcoming Friday without content and utter emotional and physical exhaustion.
There's more. I had a parent send me a video of my two-year-old client saying his longest utterance ever, two speech graduation parades (of one minivan!) to plan, three resourceful and meaningful birthday celebrations for all three of my Aries children and a quiet moment for meditation this past weekend.
All of this exists within our current days, and it's all significant. Listen to this two-step directive, SLPs. First, acknowledge all of the Hard right now. Then, prioritize the people, people, people—this includes you, too.
The Effort
Here are considerations for your heart and brain as we move forth collectively.
You are the Best Telepractice Tool You have always been the nucleus of your work. The speech-language sessions are phenomenal because of YOU. Your efforts and your heart fuel it all. As we transition to telepractice, the most meaningful tool is still you.

To Get to the Head, You Go Through the Heart Dr. Jeffrey Duncan-Andrade, professor at San Francisco State University, says, "To get to the brain, we go through the heart." In other words, before getting to the speech-language therapy, we need to build trust, make connections and honor feelings. I would like to add that some days are "head" days, and a pandemic surely requires "heart" days. Our humans have big feelings right now. Check in with them.

You are Doing Enough Brené Brown tells us that it's kind to be clear. So, let me be very clear. It's okay to feel overwhelmed and angry and sad. It's not okay to tell yourself that it's your fault or you lack of skill or you lack of effort. Say it with me, "This is my first global pandemic, and this is too much. I am surviving, and I am doing enough in every moment. These are my truths."
SLPs doing telepractice for the first time, you are enough.
SLPs parenting and working, you are enough.
SLPs-to-be trying to complete your degree requirements, you are enough.
SLPs in the schools navigating many moving parts to support your students, you are enough.
SLPs trying, again and again, to connect with your families despite the inequities of telepractice, you are enough.
The Gratitude
Let me conclude with the sentiments that remain each day once I close my laptop at the conclusion of my work hours—gratitude. Gratitude for seeing the wide smiles of my clients when I hide and pop back into the screen, gratitude for the families' flexibility as I navigate unchartered telepractice waters and gratitude in supporting others in telling their meaningful stories (evidence B). As I widen my scope, there is so much more appreciation to acknowledge.
SLPs doing acute care on the frontlines with patients with COVID-19, thank you.
SLPs well-versed in telepractice offering their brains and hearts to mentor us, thank you.
SLPs reaching out to your fellow SLPs, thank you. I see you buoying your peers as you swallow your own hardships.
And, exhale. I put away my data folders, clean up my work desk/nightstand and deeply inhale as I honor the work that continues to contribute to our humanity.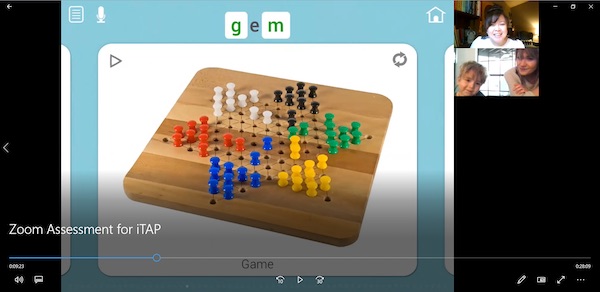 Evidence B.
About the Author: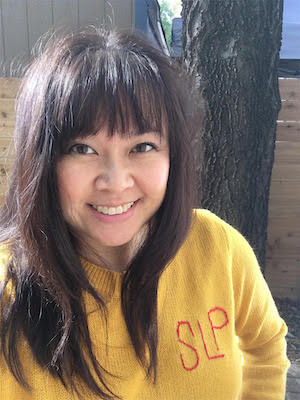 Phuong is a passionate and dynamic public speaker on the topics that are near and dear to her heart. Those topics include advocacy, cultural and linguistic diversity, poverty, literacy-based interventions, SLP mental health and the comprehensive needs of our school-based SLPs. Her high energy and sincerity conveyed through personal stories and creative messages, resonate with those who attend her presentations. When not thinking about the heart-needs of her profession, Phuong enjoys dropping beats and eating breakfast tacos with her kind husband, book-hoarding, and oh-so-lively 3 cherubs and lovely friends. Phuong has authored books including: The Heartbeat of Speech-Language Pathology and Literacy-Based Speech and Language Therapy Activities. She has been a lead SLP for a school district in Central Texas, and she is currently changing the world with her work at Bilinguistics in Austin, TX.
Join the conversation and see what thousands of professionals read at The Speech Therapy Blog or connect with us on Facebook, Pinterest, or Twitter. Also, check out the books that we have published recently. We would also love to see you in our SLP community at SLP Impact.
Make a statement in the field of speech-language pathology. Join the MOVEMENT to honor and value SLPs. As we unveil and advocate, this art will convey the value of our meaningful work. This would be perfect on your laptop, car, water bottle or any surface!