New updates for SLP Toolkit
August 11, 2020
We have been very busy this summer adding new features and making changes to existing ones based on your feedback!
Meet our newest feature:
Lesson Planning!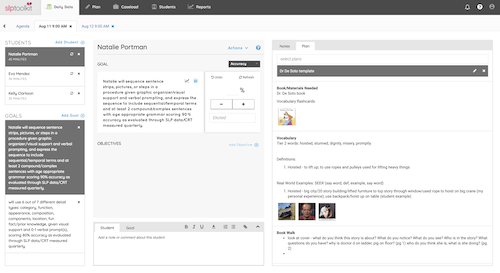 You can now create plans in SLP Toolkit that can be associated with a data event! Here is a quick tutorial showing off this feature! We have also created a free course about lesson planning that you can watch earn .1 ASHA CEUs!
Click here to access: https://www.bethebrightest.com/courses/to-plan-or-not-to-plan
But wait…there's more 😃
Here is a complete list of the other changes that have recently been added to SLP Toolkit:
New goal bank and rubric for childhood apraxia of speech.

Room # field added to caseload.

Teacher name/room # included on daily schedule (click on the data tab, click 'actions' at the top, click 'print daily schedule'). Click here for a sample 'daily schedule report'.

New reports:

Preferred Times (To be used for scheduling)

Speech Times (share with students/teachers)

IEP at a Glance

IEP/MET dates (currently located on the caseload tab. Click the print icon in top right corner).

Updates to lesson plan feature: add more than one image to a step, add a PDF to a step, print lesson plan.

Improved caseload import: click here for a tutorial.

Customize caseload tab. You can now choose what fields you want to be visible on your caseload. Click 'actions', 'customize caseload fields', then check/uncheck what fields you want to see on the caseload tab.

Batch edit student information on the caseload tab. You can now select more than one student to make changes. This may be for changing grade levels or teachers for multiple students with the same information. To do this you will check the box next to the student's names you want to make the same edit for and then click, 'actions' at the top, and then 'edit student data' you will then enter the edit in the field you are wanting to change.

Manually enter date in caseload fields rather than selecting from calendar pop up.

Expand student/goal note text box at the bottom of a data event so you have a larger area to add notes.
We hope these changes help you start your school year off right! We are thinking about each and every one of you as we start the 2020-21 school year! As always, please let us know if you have any questions or feedback!
XOXO, Sarah & Lisa