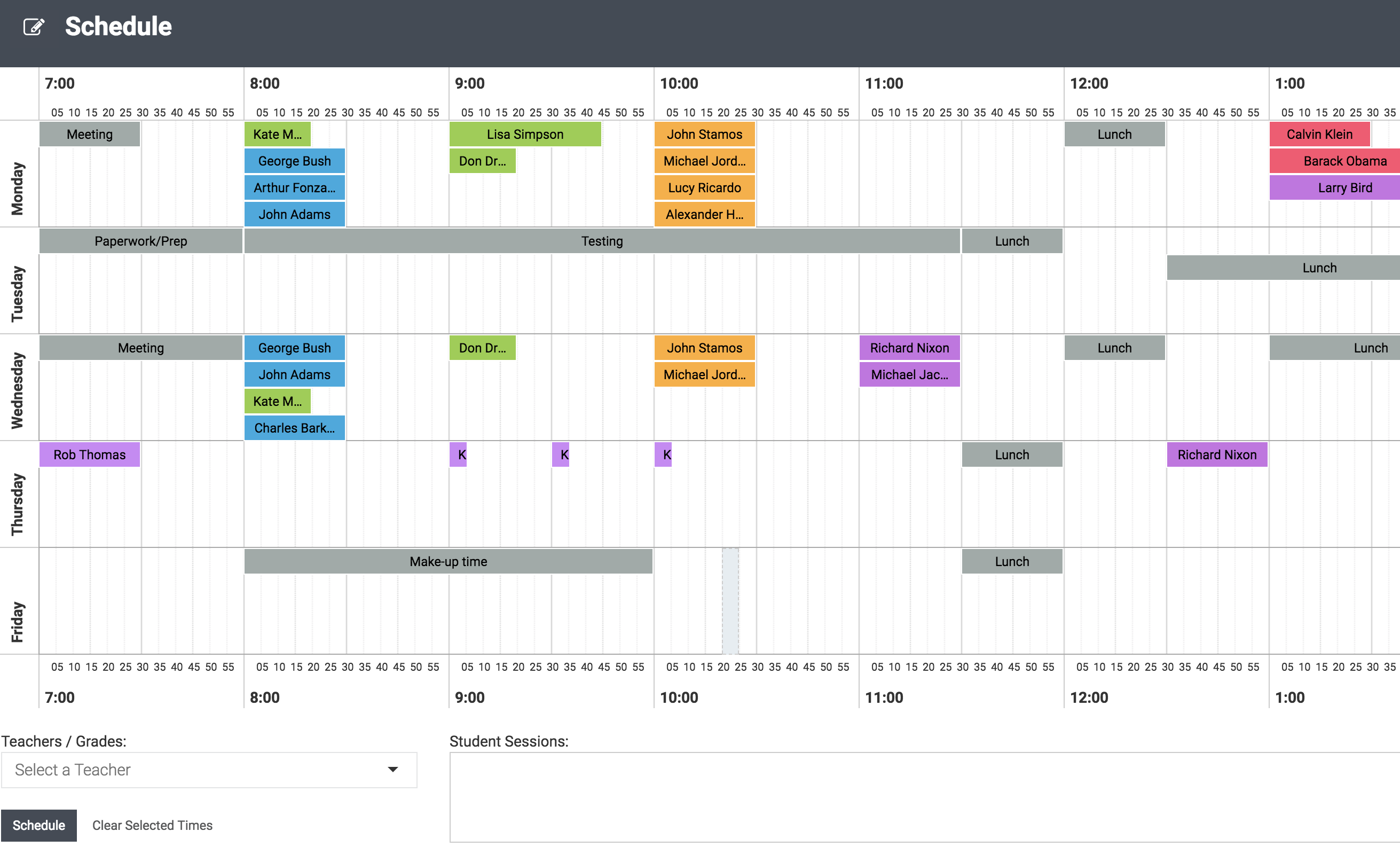 August 16, 2017
LOVE this scheduler! Super easy to schedule my caseload….took less than an hour! -Becky C., AZ
Oh scheduling…you either like it or you hate it…and even if you like it you don't have time for it! The size of our caseloads and the strict restrictions of when you can and can't pull a student make scheduling a huge challenge. But the good news is it doesn't have to be! We are excited to announce that we have added a scheduling feature to SLP Toolkit! Check out this Facebook Live video of us demo-ing the app, or read more to find out how you can complete your schedule fast and easy just like Becky C.!
How to schedule with less headache:
Step 1: Gather your caseload information and organize it.
At the beginning of the school year I make a spreadsheet at a glance with all of the demographics that I need to reference for all of the students on my caseload. This helps me to stay on top of meetings and quickly identify which class the student is in when I need to call for them. I also use it as a checklist when completing progress reports, and it's a huge help with scheduling. The most important things to include are: IEP/MET dates, service time, eligibility category, treatment area, grade and teacher. In the past I used Excel to do this, but now I use the caseload management page in SLP Toolkit.

One of the best features of this caseload management page is that the information is sortable by each header. So for scheduling purposes you can sort by grade level so you can quickly see how many students are in each grade.


Step 2: Request preferred times.
In the past I sent out a letter to each teacher at the beginning of the year requesting preferred times as well as times that absolutely didn't work or asked for a copy of their schedule. However, I found that it was far easier to schedule if the teachers just told me their preferred times. Teachers that have a hard time with their students leaving the class (as they should :) get their requests in ASAP!
I always tell them first come first serve :) It can be challenging to get teachers to respond promptly to scheduling requests because often times they don't have their schedule completed yet, so we definitely have to be patient. I try to give them a reasonable amount of time to get their schedule to me, but we can't wait forever, so you may have to track them down. Best case scenario your teachers in each grade level plan together, so often times you can use another teacher's response that is in the same grade level if you still haven't received a response.
Some teachers are super flexible and would rather just give you a copy of their schedule than to tell you the times they prefer. You can still work with this but if you can get teachers to tell you their 3 best times, it's going to take away some of the burden from you.


Step 3: Find a system that works for you.
I have seen some very creative methods for scheduling. In the past I loved using the sticky note/whiteboard method. It's great because it's a big visual space to look at, and you can move the sticky notes around easily. After I figured out how I wanted to group the students I would write them on a color coded sticky note and then place them in one of the preferred times shared by the teacher. Then if that time didn't work I was able to see what was available easily and move the sticky note around. This is the same concept we used when creating the scheduling feature in SLP Toolkit.
There are some software systems that can help with scheduling. Caselite is one of them. It uses an algorithm to do the scheduling for you, which is awesome, but there is a lot of initial data entry required from you and it doesn't give you much control. Systems with algorithms require you to define specifically or give lots of rules and then it doesn't easily allow you to override what it thinks is best. When we designed the scheduling feature in SLP Toolkit, the main thing we wanted it to do was to eliminate some of the brain work for you but still allow you complete flexibility.



Visit our website SLP Toolkit to sign up for a trial of SLP Toolkit. You can check out the other features and all of the content in the app. You will need to upgrade to a subscription to be able to access the scheduling feature. But at just $18.00 a month it will be worth it!


Hot Tip:
One of the SLPs in my district told us about a Google Add-On called "Email Scheduler" that allows you to schedule automatic emails. All you have to do is set up a the time and frequency you want to send the email and the system will automatically send an email first thing every morning to the teachers who have students scheduled that day! The therapist works at the secondary level and makes it the student's responsibility to come to speech but if they forget it makes for a quick call when it's already on the teacher's radar.
-Sarah