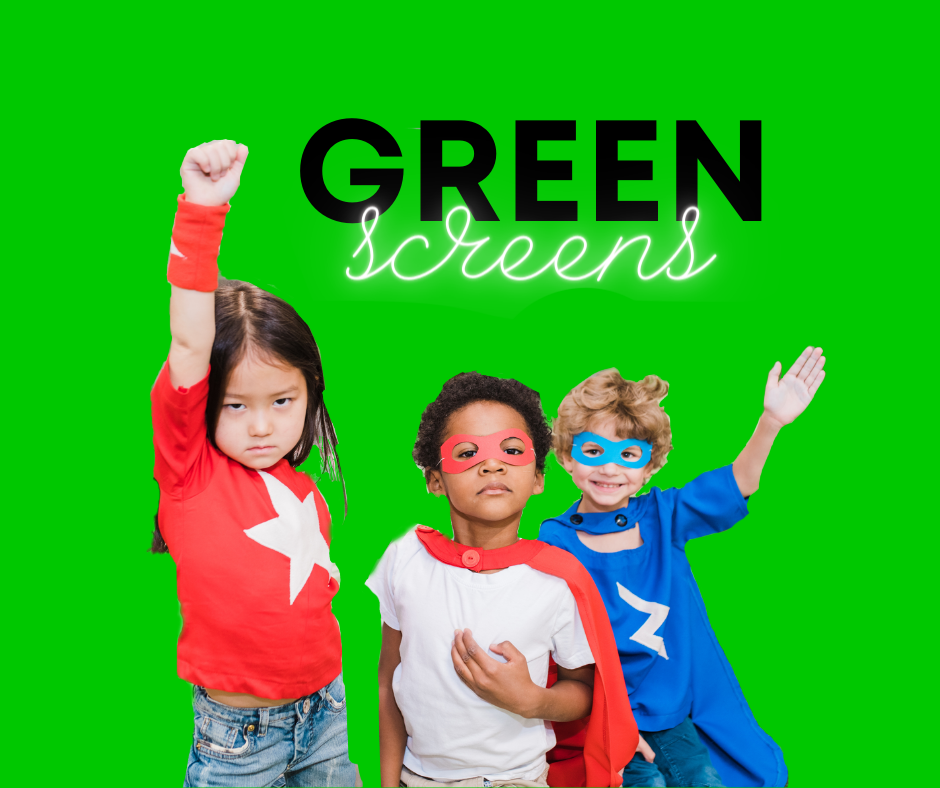 Using Green Screens in In-Person Therapy
February 22, 2022
So you jumped on the green screen wagon circa 2020, right? And now you've got a pile of green felt, hooks on your daughter's bedroom wall (or is that just me?), and various felt materials collecting dust? You're not alone. So shake out that green screen and let's make use of what we've got!
When I transitioned back to in-person learning in the Fall of 2020, I had numerous students stay in virtual learning environments. I had grown accustomed to using my green screen regularly in my virtual intervention and wanted to maintain a high level of engagement with students who stayed online. I set up my green screen on an open wall in my office (I'll check my privilege right here by admitting I have an actual office in the schools!) and kept on keeping on with my virtual students.
What I didn't anticipate was how excited my brick-and-mortar students would be seeing the screen up live in person! Their joy gave me the ideas I needed to use the green screen with everyone. As it turns out, the kids loved doing the same activities I did with them as the main character.
In order to do this in a live session, I turn on an empty Zoom meeting with my laptop positioned in front of the green screen. The students have a lovely time watching themselves engage in speech "online." When we really want to have fun, we record the meeting and watch it when we're done, or email it to their teacher and family.
Here are some ideas for use of green screens either virtually or in-person:
— Magnifying Glass —
To do this, you need an actual magnifying glass or just one made out of cardboard. You'll cover what would be the glass section in any solid color. When you orient your virtual screen (using Zoom perhaps), you'll want to set the background as the color you've put onto your magnifying glass. Then, go ahead and set a background for your green screen. This could be a probe page you've made (bonus idea - I spend one session making the probe page WITH the students and the next using it as a background). Now you can wave your magnifying glass around and "find" all of the objects on the probe page. The magnifying glass is acting as the green screen! See this more detailed tutorial here.
— Flashlight —
See above, but instead of a magnifying glass, you'll make a flashlight (cardboard, paper, whatever) with a wide color to emulate the light coming out of the flashlight. Orient your virtual screen to the color of the "light" and you can find what's hiding in the background.
— Pocket Fun —
Using extra felt (the same color as your green screen), you can make simple pockets. I fold a rectangle over, glue the sides, and place 4 velcro dots on the back to secure it to my green screen. We've found many ways to use our pockets, but one simple way is to place a picture of the student themselves (I use their school pictures that I can screen grab online) and/or a character from a story you've read (found via Google image search). We carefully place the pockets right by where the mouths would be and have a lovely time "feeding" them foods. My foods are acquired by borrowing my in-law's newspaper and snipping away at the ads, old school style.
— Floating objects —
Paint or color popsicle sticks or cardboard rectangles and attach them with glue or velcro to objects. When you hold these in front of the screen they will "disappear" and the objects will dance around. Note: you get this same effect with green shirts!
—————————-
As we got used to the new wall covering, we started to find we could use it in person in ways we couldn't do virtually! Here are a few of my favorites:
— Play Time —
My friends in the upper grades LOVE acting in plays (and writing them)! We've begun to incorporate scene changes via the green screen into our big screen debuts. This is also a great opportunity to use the record feature and share with their classes. We spend multiple sessions preparing and practicing (those sounds better be perfect!), and then I am in charge of changing the previously planned backgrounds so that scenes are changed seamlessly. We make use of the "disappearing child" feature (see below) during this also to make sure the show is full of surprises.
— Disappearing Child —
Here is another opportunity to use extra felt. Simply stand your human in front of the green screen and have them hold up the extra piece of felt. Poof! They've disappeared!
— Felt Board —
Maybe the most obvious use of a gigantic green felt piece on your wall is one we've not covered. It's truly a very large felt board! I've cut letters out of black felt and we use that to work not only on our sounds, but for vocabulary and phonological awareness activities as well. Recently we cut out the pieces for snowmen and let them live in a little village on the green screen.
While 2020 brought us many obstacles, the green screen is one tool I'll happily keep in my therapy toolbox - virtually and traditionally. I hope you can rekindle your felt relationship, too!
About the Author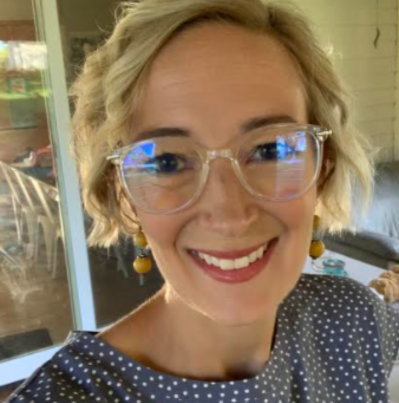 Abbie Keibler is a Speech-Language Pathologist at Mississippi Bend AEA in Bettendorf, Iowa. She is a non-traditional SLP graduate with undergraduate degrees in German and Psychology and taught preschool prior to (and during!) the acquisition of her Masters of Arts in SLP at Ball State University in Muncie, Indiana. Currently, Abbie is in her 14th year working in the schools where she serves the preschool and elementary population and is a member of the Assistive Technology Department. Abbie is an adjunct instructor at St Ambrose University in Davenport, Iowa, and has a special interest in comprehensive literacy for complex communicators. When not "speech-ing," you'll find Abbie taxi-ing her children from activity to activity or reading. She reads over 80 fiction books a year as a necessary escape.