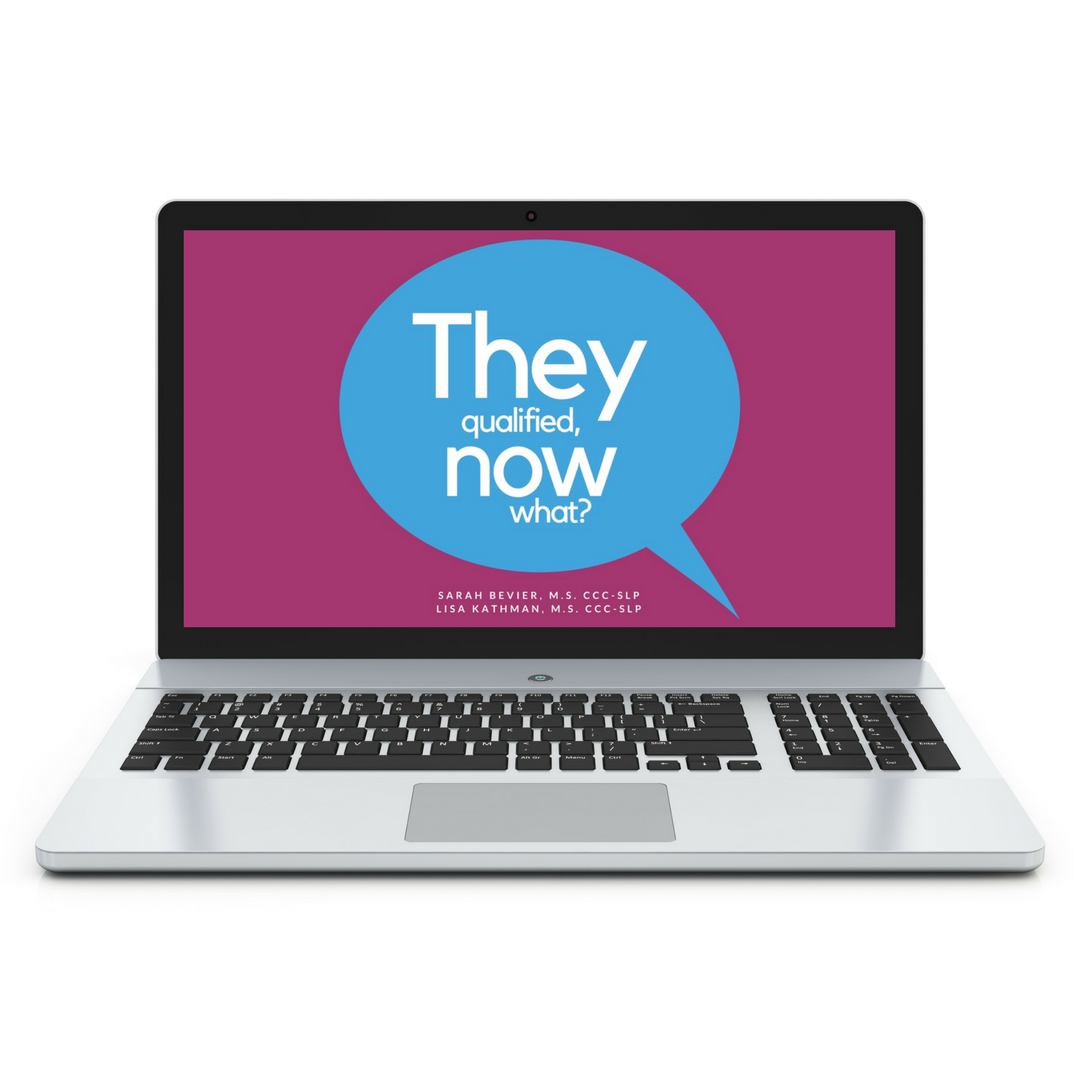 January 27, 2017
Wow - what an AMAZING two weeks we had with you! We loved hosting SLP Summit. We had the opportunity to learn from some of our favorite SLPs and network with thousands of SLPs from across the world in the chat rooms, discussion boards and through social media.
If you aren't sure what I'm referring to or didn't get a chance to sign up yet, it's not too late! You have through February 14th to earn up to 9 hours of FREE CEUs. Click here for more information.
Sarah and my presentation was entitled, "They Qualified, Now What?" We talked about how SLPs typically have standardized means for diagnosing communication disorders; however, the process of developing and monitoring treatment plans can vary greatly from one Speech-Language Pathologist to another.
We highlighted how SLP Toolkit can be used by pediatric SLPs working in schools and clinics to make data-driven decisions for students at the point of programming, as well as the benefits of how using a digital platform, can assist you with efficiency and organization throughout the process.
We received several questions during our presentation, some of which we were able to answer live, and others that we would like to take the time to answer now:
General Information
Where can I locate the app? This is not an iOS app. To access the app, visit www.slptoolkit.com.
I've been using SLP Toolkit and LOVE it! Is there a way to organize or re-order the Progress Monitoring Tools when they are given to a student? At this time you cannot organize the order of the assessments, but this is a great suggestion that we will note for consideration in future development.
Pricing
How much is the full version of SLP Toolkit? The monthly rate is $19 per month, or the yearly rate is $180 per year. (This info was originally shared in January 2017 - check site or email us for current pricing.)
Can you apply for multiple licenses with SLP Toolkit? SLP Toolkit is available on a subscription basis per user. Group discounts are available for purchases of 5 or more subscriptions.
Are all of these assessments, screeners and rubrics you are currently discussing on the SLP Toolkit site? Yes!
Is there a limit on the number of students in a user account? Like if I have 55 students on my caseload, will one user account be able to handle that? There is no limit to the number of students you can enter on your caseload.
How long does it take for initial set up with SLP Toolkit, let's say for a caseload of 65? We have made setup a piece of cake by allowing you to upload your caseload from a spreadsheet, so you can be up and running in a matter of minutes.
Do we have access to all the features of the full SLP Toolkit if we are doing the free trial? The free trial allows you access to all of the content inside of the app, but not all of the features.
Does the information save from year to year so you can track students each year that continue to be on your caseload? Yes! You have the option to archive vs. delete information, which allows you to pull it up at a later time.
If you wanted to purchase a yearlong subscription of SLP Toolkit can you begin your subscription during any month of the year? You can start your subscription at any time.
Do you offer group access if two SLPs work at the same school? Users cannot share accounts since it would allow access to student records, which is a violation of FERPA. In addition, only one user can be logged in to a subscription at one time.
I am wondering how you developed this program! Do you have graphic designers, web designers, etc.? It looks beautiful and it is evident that you put a lot of work into it! Who else is "behind the scenes" with you? Thank you so much! We do have a team of developers who have helped bring our vision to life, as well as SLPs who have provided invaluable feedback throughout the development process.
Is there a way to transfer the students from one SLP to another when they move on to the next grade? At this time, digital files are not transferable, but you can print and send information about a student from one SLP to another.
Is there ever a time of year where the subscription to SLP Toolkit goes on sale? We do typically offer convention specials, so please come visit us if you get the chance! We are planning on being at TSHA in Austin, TX in February, ASHA Connect in New Orleans, LA in July, and ASHA in Los Angeles, CA in November.
What was the website with the resources for district funding? We have resources on our blog at blog.slptoolkit.com/resources. If you find that your administration asks any questions that you can't answer, or if you need more information, don't hesitate to reach out to us. We would love to advocate on your behalf!
Do you all find that SLP Toolkit helps explain things to parents during an IEP meeting who may also be on a lower functioning level? SLP Toolkit does provide a lot of data for all populations of students.
How long has SLP Toolkit been in existence? SLP Toolkit launched in January 2016.
I typically have to include two data points per month for each goal for progress reports. For your progress reports, are you only including data from the CRTs/rubrics from SLP Toolkit? Right now I have been using the CRTs one or two times per nine weeks and then the rest of the data points come from data from therapy sessions. However, I don't like how the data doesn't align as well as it would if it was only data from SLP Toolkit. I was curious about how many data points you include per nine weeks for your progress reports? We only use the tests and rubrics inside of SLP Toolkit to report progress for purposes of consistency in data.
Age Range/Types of Disabilities
How early does it start? As early as pre-K? Or kindergarten? SLP Toolkit has tests for ages preschool through high school.
Can the SLP Toolkit be used with minimally verbal/non-verbal students? Yes – there are assessments for a wide range of communication ability levels.
Assessments, CRTs, and Rubrics
In the SLP Toolkit library are the assessments ones you developed or ones you added? We have developed all content within SLP Toolkit.
Does it summarize from all four areas listed on the left column? For the Present Level Assessments, the column on the left will show the scores obtained on each subtest. Anything that was 60% or below will have a "flag" next to it indicating a potential area of weakness. In addition, the content is summarized for you in a strengths and needs list format when you select "print" next to the Present Levels Assessments.
The assessments are to help write an IEP, correct? The Present Level Assessments and other tools in that section help with IEP development, as do the SMART goal bank and accommodations section. The progress monitoring section, comprised of criterion-referenced tests and rubrics, is for efficient completion of progress reports.
Are any of the assessments on SLP Toolkit standardized/formal? Or are they intended for informal assessment? Assessments are not standardized or norm-referenced and are not intended for eligibility purposes. Rather, they are designed to be an efficient way to determine a student's strengths and needs for development of present levels in Individualized Education Programs. However, they can be used as part of your descriptive data when doing a formal evaluation. In addition, they can be used for initial screening referrals for students not currently in special education to help guide strategic pre-referral interventions prior to evaluation. The assessments guide your clinical judgment. They do not replace it.
Are you able to make a complete assessment profile for each of your students, regardless of whether they come for individual or only group sessions, or do you find that you utilize the SLP Toolkit for mainly students with individual sessions? I love ALL of this, but feel like it would be harder to fully complete to get the most benefit for my group only students. SLP Toolkit can be used with all students on your caseload, whether you see them in groups or individually. For more information on progress monitoring on groups, read this post.
How long do each of the progress monitoring assessments usually take, if you try to administer them while having a group of, say 5 students, in your therapy room? It depends on the test and the student, but typically anywhere from 5-10 minutes per student.
I also work in outpatient pediatric clinic. Do you know if insurances will reimburse using criterion-referenced based scores and baselines rather than standardized scoring? These tests should not be used in isolation for purposes of eligibility, but are great for developing your treatment plan and then monitoring progress on goals.
Within SLP Toolkit, could I enter/create my own assessments or progress monitoring tools, or is it limited to only the items in the toolkit? At this time, you cannot add your own tests, although this is a feature we plan to add in the future.
Do you use the same rubric test for each progress report? Do the pictures change or do you find the children will remember the answers? When administering criterion-referenced tests and rubrics, you do use the same assessment for each grading period. When using these types of assessments for progress monitoring, you are not teaching the test stimulus items in therapy, but rather strategies needed to learn a skill that can later be applied to the test items. Therefore, even if a student does remember a question they would still need to have the skill in order to answer correctly. You can click these links to find out more about criterion referenced tests and rubrics.
Are there any assessment tools specific for ELL students? The resources can be used for ELL students if your goals are written to acquire various communication skills in English. Consideration should be made during development of the IEP to not target goals that are related to ELL differences (e.g. not working on articulation errors that are typical for all ELL learners of a certain language; or understanding that some cultures do not teach labeling of objects but rather describing of objects and therefore formulating a goal that supports cross-linguistic transfer).
Other Features
Where do you find the progress monitoring suggestions after you administer a Present Level Assessment? When you complete a Present Level Assessment, click on the "My Tests" tab for a student. The student's name, last date the test was edited, number of suggested progress monitoring tests, and options to archive or delete the test are displayed. Click on the number to view the suggested tests.
Is there a place in SLP Toolkit with recommendations/suggestions for accommodations? Yes. There is a strategies bank located under the "Progress" section on the left column under a student's name.
Can you cut and paste goals from this to my mandatory Progress Book program districts in OH uses? We are not familiar with that program, but you can copy the text from SLP Toolkit into your IEP software system if it accepts pasted text.
Does the goal generator make benchmarks/short-term objectives as well? The goal generator does not include benchmarks; however, the goals are editable so you can add them in the text box at the bottom prior to hitting "create" for it to show up on your goals page.
So can we pull up a picture stimulus on an iPad while using a computer to administer? Yes – go to www.slptoolkit.com/viewer on the iPad and login with your regular login credentials to access the images on a separate device.
Are there goals and targets for students with apraxia? There are drop downs for articulation sounds and phonological processes that are completely editable to meet the needs of any student with speech sound disorders. We are always looking to make this resource more comprehensive so please let us know if you have goal suggestions or ideas for additional progress monitoring tests/rubrics.
Do your IEP goals also say that your schedule for tracking progress is quarterly? The drop downs for the goal measurement include various frequency intervals, and can also be modified should you not see the timeframe that your district uses to report on progress.
Do your goals work with IEP Direct? Goals are generated in the SLP Toolkit app but can be copied and pasted into other software systems that are used by teams to write the IEP document itself.
Clarify how to use frequency counter for intelligibility, say with a student with severe phonological processes. The frequency counter is used in the same way you would tally intelligibility with paper and pencil, just in a digital format that scores for you.
Can you input your own goals or do you have to use the goals in the program? You can copy goals into the system and add them to your own "personal goal toolbox" to access for other students on your caseload as well.
Research
What is your source for leveled criterion-referenced measures (i.e. grade-level synonyms, multiple meaning words, associations, etc.)? Items were selected considering a combination of research, academic standards, grade band Tier 2 vocabulary, and developmental milestones. No one curriculum was used as that varies from school district to school district. CRTs were vetted with typical students who fell within those grade bands. However, always use your clinical judgment to determine which level works best for each individual student.
Technology & Security
This may be a silly question, but is the SLP Toolkit website secure to store student information? Always wanting to make sure we are respecting student's privacy and in compliance with our district's policies. Yes – all information is stored on HIPAA compliant servers. For more information, visit this site.
Is Wi-Fi required for the companion device? Yes.
How are the results stored? In the cloud? How long do you have access to results? All data is stored on our servers. You have access to the information for as long as your subscription is active; except for information that you delete.
Miscellaneous
What do you guys do for kids whose IEP is written by another SLP and you don't understand the goal or how to measure it? Other than trying to contact the evaluating SLP, who in the case I'm thinking of, has retired? You can either do your best guess at the intent of the goal based on the information in the present levels section and then measure that, or amend the IEP to re-write the goal as desired.
Thoughts on kiddos who can pass the test but struggle immensely in day to day life? If it is a student who does not qualify for Special Education eligibility in any category, it may be that the lens that the team used to determine eligibility is too narrow. If the student continues to struggle immensely, a team should be convened to review existing data and determine if additional data are needed in any areas of suspected disability.
I find it difficult to analyze and transcribe language samples, how do you go about doing that efficiently? It doesn't have to be in IPA or 100 MLU? We use the information from language samples to support our other data and don't feel that a formal analysis is necessary to do that. The format we used in the Present Level Assessments (conversational sample, narrative retell, picture description task, and information summary retell) is our solution to making this process more efficient and doable for every student on your caseload.
I have current children using PEARL assessment. Some kids do great with the narrative but have difficulties with the decoding segment. How do I use this information for speech and language potential/goals? We are unfamiliar with this assessment, but in general, good performance on a narrative task would indicate good comprehension and expression skills, while difficulty with decoding could be related to phonological processing and phonics. You may want to involve your reading specialist/special education resource teacher to see if there are reading concerns for the student and do deeper testing of phonological processing skills.
As a CFY I don't have too much experience with actually evaluating and assessing my students with standardized tests and/or measures. So what are ways are some suggestions or tips or strategies to administer standardized tests? For any new assessment, make sure you read the manual so you understand administration directions, basals, and ceilings. It may be helpful to have your mentor involved on your assessments as part of your mentoring activities for your CF (both direct observation of you administering as well as informal support to ensure accuracy of scoring and help with the interpretation of results) if this is an area you feel you would like to grow in.
How do you determine how many goals to write, especially when the student is very involved? For any student, we never need to write goals for every single need. We do need to indicate how a need is being supported. For example, if a student has difficulty with grammar, but is receiving daily interventions in his general education classroom for that need, that would not need to be something the SLP addresses with a goal. But you would want to note this as a need in the present levels and indicate how it is being addressed. Some needs are further addressed by accommodations rather than goals. And other needs can be addressed in bulk with one goal (e.g. a student having difficulty with comprehension, syntax, and semantics may benefit form a story retell goal which would involve all of those skills within that one goal). So goal development is typically done by asking, "What communication skills are the most critical for this student to access his or her curriculum at this moment in time?" and going from there.
Still have questions? Contact us anytime by emailing hello@slptoolkit.com.
-Lisa