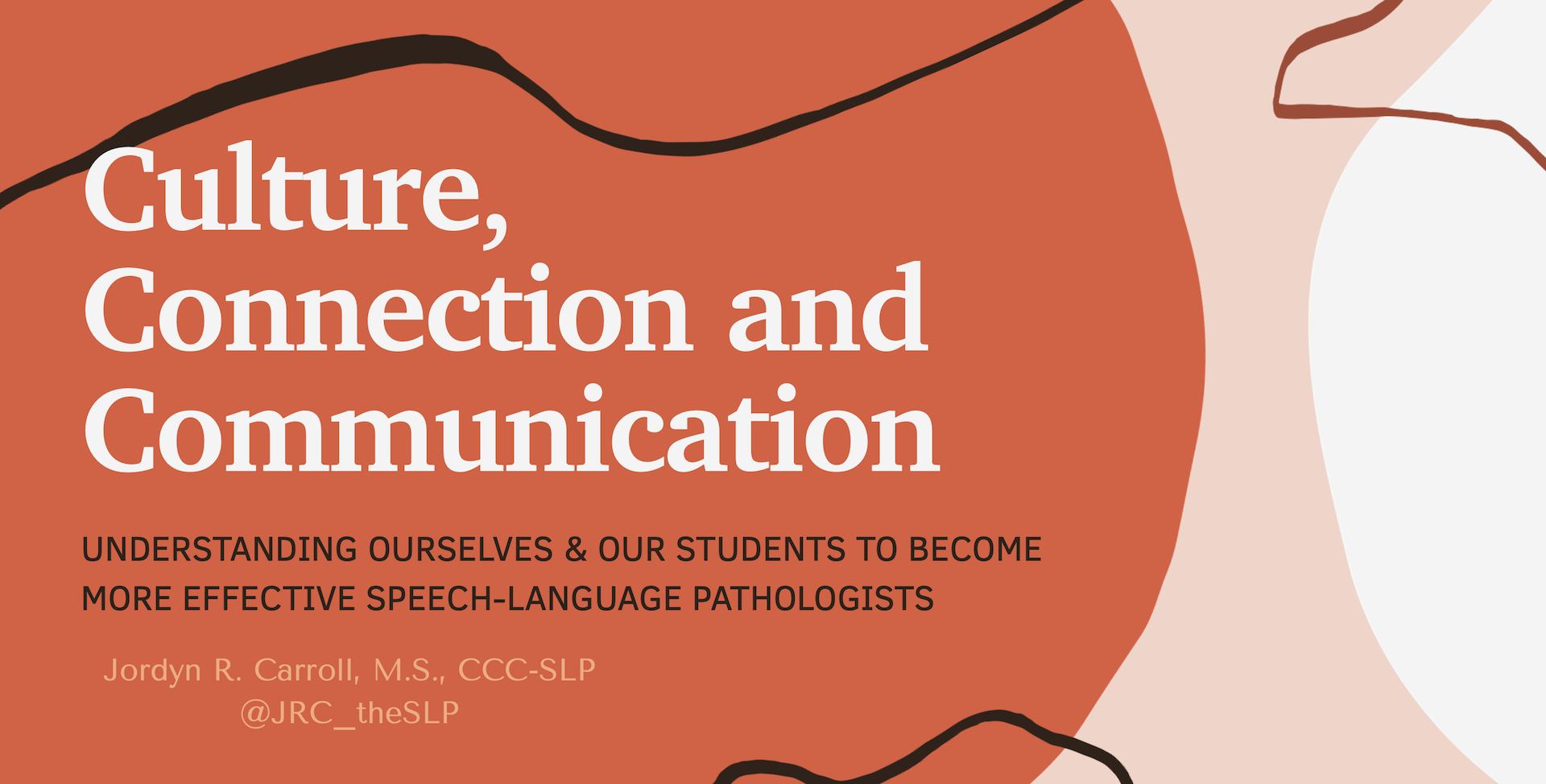 Use Your CCCs: Cultural Responsiveness, Connection, and Compassion - SLP Summit Q&A
February 1, 2021
I had a fantastic opportunity to cover a plethora of dynamic content in my live SLP Summit course. I received so many questions and couldn't get to them all, so I answered some questions from the course below!
Use Your CCCs: Cultural Responsiveness, Connection, and Compassion - Q&A
by Jordyn Carroll, M.S. CCC-SLP
What advice do you have for helping to shape cultural responsiveness, connection, and compassion, in our students?
The best way to shape these critical traits in our students, as with anything, is to model it ourselves. By making your speech space an identity-safe environment, displaying connection to people of all races and cultures, and encouraging that in others, we will see our students doing the same. One of the easiest ways to start this process and inspire open-mindedness is implementing diverse books and therapy materials. These pages will lead you in the right direction: @JRC_theSLP @HereWeRead @BlackBabyBooks @InclusiveStorytime @RiseUpSpeech @BilingualSpeechResources @BuildingSuccessfulLives @IHaveABookForThat @BjoremSpeech
If you hear a student's bias come up, it is okay to confront it. You SHOULD confront it. However, don't mistake the word "confront" for being confrontational. We should start by guiding our students to acknowledge their biases themselves. Another SLP gave me a great example the other day. She works with adults and displayed an illustration of a Black woman looking into a car window with the keys still in the ignition. She asked her clients what they thought was happening in the picture. She told me all of her clients of color stated the woman locked herself out of her car, but almost ALL of her white clients said the woman was attempting to rob the car.
My advice to her was simply to ask the clients what made them think that was happening. Walk them through understanding their own bias and explain the facts of the situation (the woman looks upset/frustrated, she is looking through the window at her the keys still in the ignition, she does not look harmful or "up to no good", she has no tools or weapons, etc.). Follow this session up with counter-active examples of their bias–Black women in powerful positions, Black women teaching, Black doctors, etc. You have the power to provide different perspectives.
How do we encourage more culturally diverse people to consider careers in SLP?
The lack of BIPOC in the field of speech-language pathology is caused by a lot of factors. Systemic racism and oppression cause significant barriers for Black people and all people of color in various ways. It all comes down to access. Although this is not something one person can solve—as it is systematic—there is a significant amount that we can do to make a difference right where we are. I'll share five ideas here!
Become a mentor/take someone under your wing. This can include providing financial assistance for books, tuition, public transportation, food/groceries, Praxis/GRE/SAT, etc. OR this can be general mentorship because this field is extremely complicated and nearly impossible to understand without guidance. You can help a student or new grad understand the ins and outs of licensure, billing, and CEUs. You can provide advice and be there to answer questions, or share your specialty with the new generation. There's so much you can do to change the course of a new SLP's career and keep them in the field!

Question the lack of diversity in your setting OUT LOUD and to the people that matter. If you walk into a room and see that it's 100% white women, say something about it. Make people uncomfortable. Bring it to the attention of your supervisors and let them know that the lack of diversity is not okay—even if you are the majority. ESPECIALLY if you are the majority.

Get on a hiring committee! I have heard so many accounts of BIPOC witnessing all white hiring committees not hire someone because they don't fit the typical "SLP culture" a.k.a. they are not a cis white woman. Use your voice on a hiring committee to express the want and need for more diverse SLPs, the different perspectives they share, and how your students/clients will benefit from them.

Outreach, outreach, outreach! Go to local schools, community events, etc. and share what you do! This goes back to lack of access—many people have never been exposed to an SLP, have no idea about the field, what we do, or why they would ever be interested. We can change that! You can reach out to school counselors and say you want to come speak in classrooms, and many schools hold job/college fairs that you can ask about as well.

Refer potential clients to BIPOC. One reason more BIPOC leave the field is because it is not always sustainable, unless you work under a large organization or school district. Many are interested in speech pathology because of the autonomy they can gain, including myself. We want to make money for ourselves rather than making money for rich white people–then struggle with finding clients, managing our own business, etc. Help them out by providing referrals, especially for BIPOC clients!
Do you have any suggestions for discussing these issues to parents who can be quite oppositional about it (showing diverse groups)? I have met parents with specific areas that they don't want to expose/discuss with their kids.
I would start by making it known that you and your space are welcoming of all people. Some ways you can do this are by displaying diverse posters, wall art with a message, or a handout at the start of the year/when you get a new client that states your position about using diverse materials and implementing cultures into your sessions.
With these specific parents, I would genuinely ask them why they are uncomfortable or oppositional to exposure to different people. I want to know what the underlying problem or bias is so that we can address it. Again, I'd explain why I use the materials I do and why I feel it is essential. If they are still opposed, I would let them know I do not plan on changing my practices as they are not harmful, and in fact, they have been proven to be beneficial. However, they are welcome to speak to my supervisor (if at my school) or begin searching for another therapist (if a private client).
Thank you all for reading and for those that were able to attend my session! I have several more questions to answer, so be sure to stay tuned. If you have any other questions, you can contact me via Instagram @JRC_theSLP or on my website jrctheslp.com. I'm grateful to have the opportunity to use my voice and talk about the things I feel are essential to speech pathology, education, healthcare, and humanity in general. Most of the feedback I've received has been positive and if I have yet to thank you individually, THANK YOU. I'll be providing more opportunities to learn, so make sure you follow me for updates and announcements!
About the Author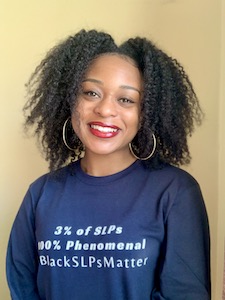 Jordyn Carroll is a school-based speech-language pathologist in Washington, D.C. She received her B.A. in communicative disorders with a minor in education from University of Redlands, which is where she first recognized the lack of diversity in the field of speech pathology. She then received her M.S. in communication disorders from Howard University, a historically Black university. Now, Jordyn creates diverse therapy and educational materials, while emphasizing "being the person you needed when you were younger." She uses her social media platform to serve as representation in and outside the field, advocate for Black children, and push for diversifying speech-language pathology.
Bummed that you missed this course during Summit, or want to watch it again? You can! Jordyn is offering this course for only $25 here!