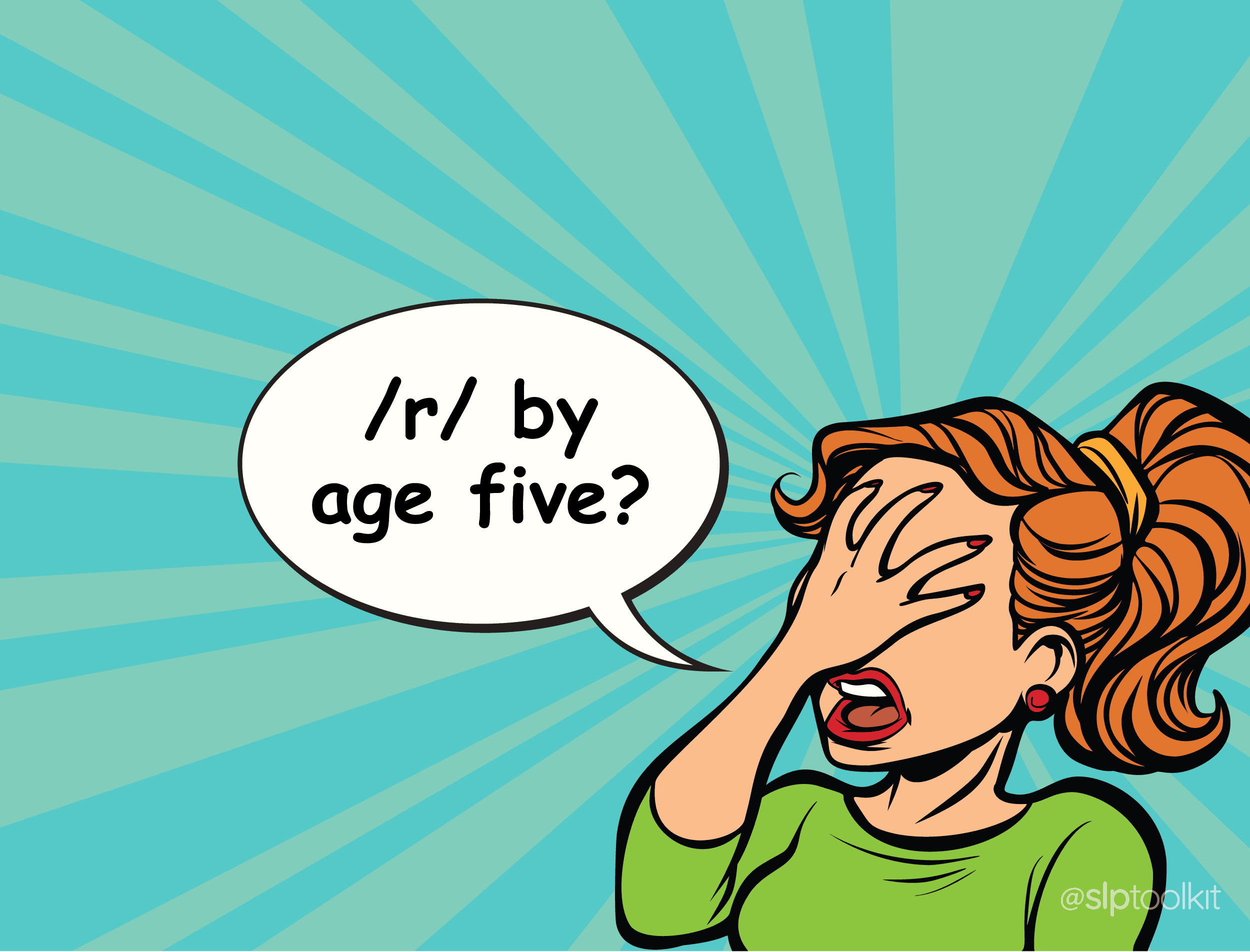 We have been interpreting the articulation norms all wrong.

BY: Sarah
February 27, 2019
A few months ago a new speech sound norms infographic started popping up in a variety of speech-related Facebook groups and created quite a conversation. The darling treehouse image showed that 'later-developing' sounds are actually acquired at a much younger age than what some of us originally thought. According to the cross-linguistic review conducted by McLeod and Crowe, the average age for an English speaking child to acquire the /r/ sound is 5 years old. I'm sorry…whaaaaaaaaat? What happened to the Iowa-Nebraska Norms I frequently referenced when making a case for treatment decisions? How could they have been so different? Well, come to find out they aren't. This infographic wasn't based on new research - it just summarized all of the other research and presented it in a new way. I had been interpreting what the norms showed me in the wrong way.
All of this was made light to us by our dear friend, Meredith Harold at The Informed SLP. She reached out a couple of months ago and threw out an idea she had about addressing this topic in a podcast episode with a friend of hers who studies speech sound disorders. Clearly, we weren't the only ones who were struggling with what these speech sound norms were telling us. Nor were we the only ones who had been using them incorrectly. Meredith's hope was that we would be able to have an honest discussion about the implications of this, and considering we host a podcast called "True Confessions" - we agreed :)
This episode was eye-opening for us and there were plenty of Aha! moments throughout. We will confess that we were really nervous about this conversation. There are always some doubts we as clinicians have about our knowledge and skill set when speaking with scientists, and we were concerned that we may just have to agree to disagree about science and real-world application. We hope we did this topic justice, and more than anything it gets a positive dialogue started.
We highly recommend reading the blog post: That one time a journal article on speech sounds broke the SLP internet by Meredith Harold as well as the article: It Might Not Be "Just Artic": The Case for the Single Sound Error for some background as well as to understand some of the references mentioned in the episode.
This is just the beginning of this conversation. We will definitely be doing some follow up episodes, so please leave a comment or email us at hello@slptoolkit.com if you have any questions or thoughts about what you hear!
How to Listen
You can always listen to this week's podcast through the audio player on this page, but if you want to subscribe for free to get every episode, here's how:
If you're on an iPhone or iPad, open the app called Podcasts, or just tap this link.
If you use Android, you can find us in the Google Play Music app just by tapping here.
We're also on apps like like Pocket Casts, Radio Public or Overcast. And in case you really need it, here's the RSS feed.
If you still can't figure it out, or there's another platform you use that we're not on, let us know podcast@slptoolkit.com.
Hey, do you like what you hear? Please rate and review us so others can find us too!
XOXO - Lisa & Sarah
Related Posts.